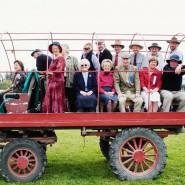 In August 1866, the Mandeville Farmer's Club met in Kaiapoi and put forward a proposal to form an Association along the same lines as the Canterbury Agricultural and Pastoral Association, formed 3 years ago. At the time this organisation was taking an active interest in the development of the agricultural industry and the Northern District was fortunate to have many progressive men amongst their ranks. Moved by Mr James Wylde and seconded by Mr Marmaduke Dixon, the project met with ready support.
The first ever Show was held on Friday 28th of December 1866 and it was estimated that over 1200 people attended. The gate takings were 46 pounds, 13 shillings and sixpence.
As we approach our 145th Anniversary in 2011, we can look back  on our History and Heritage, Celebrate our Past and Present and look forward to 'Our Future'.
This is how we started. What we are today is what you see and all that has happened in between.
To all the men and women who have been on the Committee of the Northern A&P Association, take credit for the proud history we have today.
 OBJECTIVES OF THE NORTHERN A&P ASSOCIATION (updated 2004)
To host an annual A & P Show giving the rural, lifestyle and urban communities the opportunity to compete or show their stock or produce against other competitors in the same field.
To provide a common link between town and country and to enhance this relationship wherever possible.
To encourage variety and the best cultivation methods in greenfeed. An annual competition is run with this purpose in mind.
To encourage the quality production of hay and silage. An annual competition is run with this purpose in mind.
To encourage and enhance the breeding standards of all livestock. Several annual competitions are held with this purpose in mind.
To maintain our grounds and buildings to the highest standard possible allowing the wider community access to an excellent
range of facilities.
To always be looking to improve our facilities and looking towards the future with short, mid and long term objectives in mind.
To recognise the efforts of those before us and maintain the proud tradition of the Northern A&P Association.
Any other objective that the General Committee may consider from time to time to be appropriate.