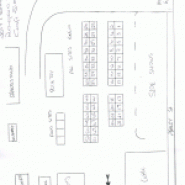 Craft Sites
Craft sites are available for a range of activities – books, jewellery, jams, pickles or small scale food items (e.g. sweets), clothing, sunglasses, toys etc.  These sites are aimed at those selling items that are not a full scale retail/commercial business, hence a lower price than a trade site.  Should a retail business specifically want to be in this area, the Northern A&P Association reserve the right to charge the trade price of $65 for a 6m x 6m site.  Craft sites are limited so it will be first in, first served, and this includes payment of site.
Please click on the accompanying link for an application form – 2017 Craft Booking Form
Please see plan – you have the opportunity to state your preference, if this is not available another site will be allocated.